For the next leg of our Journey we tackled the Baltics starting by taking a sleeper bus to Vilnius, Lithuania. I was surprised to learn we could not take the train since it would go through Belarus, which requires a transit visa. A side note for those reading, from now until we hit china there are no videos from my phone, since I lost them all when my phone broke phone and a very literal technician only retrieved the pictures from its drive. After returning stateside, I may update these post with videos, but for now its going to be just pictures.
The Baltics in general are part of the old Soviet Block, a set of border countries that acted as a buffer between the Democratic west and Communist Russia. In these countries the Soviet Union controlled much of the politics and economics of the countries up until they gained independence after the Soviet Union fell. What remains is an area of the world lost to time, yet also modern; a place new to western tourism and filled with berries and meat.
An Old Lithuania
Lithuania is filled with rejects of its medieval and christian past. A large portion of Vilnius looks like what would be considered an "old town area" for other cities. It is made up of narrow streets, with colorful smaller buildings. It has multiple arched gates to go through to enter various city areas and one of them, like in Zagrab, contains a church. A difference between this old town and the others cities we have seen is these streets also include walk up housing units among their tenets. Our AirBnb, which was near the center of old town, was a medium sized gate on an old street, enough for a car to pass through, and after entering the gate it opened to a large courtyard surrounded with walk ups on the other end of which was a second tunnel that opened to a separate courtyard also surrounded by walk ups.
Inside the old town city there are various churches. The man one is on the public square near the river and palace. The square holds a tower, a statue, and a large cathedral. The entire area is white, although I'm not certain what type of stone was used. Inside the church are paintings of saints and scenes from the life and crucification of Jesus. At teh back of the church is a large ivory white pipe organ, and towards the front right is a small seperate chapel adorned in gold and silver with angel statues peering down at the small congregation. In the evening a trumpet player stands on a balcony that is outside of the church, likely connected to the small chapel and plays songs for the townsfolk as the sun sets.
Another popular sunset location, and one near the square,  is the old hill fort. It is situated on top of a hill whose base is the public square. In the evening masses of people are up there to watch the sunset and get a sweeping view of the city. I attempted to get Jessy to go up there to see the sunset with me, but it was too much climbing. I did end up going myself and taking some pictures to share with her as she sat in the square and listened to the trumpet's melodies.
That was Vilnius, another old Lithuania sight that we went to was Trakai Castle, a legitimate castle surrounded by water on an island in a large lake. It used to be part of a castle complex where there was a large castle on the mainland, and this smaller castle on an island. This complex was partially destroyed due to locals taking the bricks to make their houses over the years; however the island castle was less disrupted and has been fully restored and filled with art and artifacts to reflect its former elegance.
Jessy and I spent the day at the castle. It was a quick bus ride from Vilnius, and a medium distance easy walk from the bus station. We grabbed some picnic type food at local grocery store; some prosciutto ( I haven't talked about this but every country/city has its own prosciutto type meat), a bottle of champagne, some bread, potato salad, chips ( I don't remember what type, but I remember them being a special vegetable or flavor… maybe they were fried mushroom slices), and mushroom cookies.  At the castle we punished each other with the various midevil tools that were around. Jessy spent some time in the stocks to reflect on why she can't wake up earlier. I spent time in a spiked cage reflecting on planning more in advance.
After our punishment we explored the castle, It contained art, armor, history of the region, and legit thrones. The most interesting aspects of the castle was really just the architecture. Its amazing how many stories it was in places, and how people could live in a building like that and not freeze to death in the winter. IT was also interesting seeing its ties to the rest of the world. Lithuanian history is not something those in the western hemisphere learn a lot about, but they got conquered by the mongols, have often been at odds with the Russians, were part of the Polish-Lithuanian kingdom, among other lessons. On the ethnic side besides the tatars, Russians, pols, and Scandinavians, that intersected with the region they talked about a group we had never heard of before, the Karaites. Essentially they originated from Turkey, but lived in Lithuania and Russia. They where not Jewish, but practice a form of Judaism. All and All fascinating information.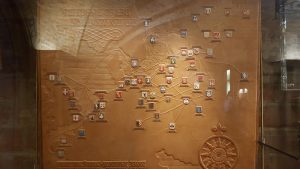 After exploring the interior of the Castle we rented a row boat and rowed around the lake and around the castle. We found a nice spot in the reeds behind the caste and had our picnic. It was pretty romantic and relaxing.The ducks circles our boat hoping for scraps. If you through a piece of bread int he water ducks from the 100 meter radius would take off and fly to wear you through it. It was a nice way to end the day, me relaxing and Jessy happily rowing in the water she loves so much.
A New Lithuania
The Baltic's are surprisingly tech savvy. Talinn in Estonia is a tech startup hub. Lithuania in part is known for being a source of a lot of the Facebook click bait on the internet. The fake news that helped get Trump elected and causes more uneducated divide in our country. It is not a great claim to fame, but it does take expertise in internet technology to accomplish that. Beyond the general knowledge that this are of the world is up and coming there were some other interesting data points. One, we found a kiosk where you could buy and sell Bitcoins, the future of currency. Two, we ran across this VR center where people can play Oculas Rift and HTC Vive games and programs. These are two tech offerings we have not even run across in San Francisco, the capital of technology.
Grafiti, It doesn't get much better then what we saw in Vilnius. I'll just post some examples below for your enjoyment.
Berries and Meat
Food in Eastern Europe is a midwesterners dream. Meat, Potatoes, Mushrooms, and Berries – so many berries we had never heard of before. Unfortunately Jessy doesn't like fruit so she missed out on the last part. She does however like mushrooms and went crazy with all the selection. Apparently this year has been a really good year for mushrooms, and like with the berries there where many shapes and types of mushrooms we had never had before. Speaking of mushrooms there was a treat we discovered that was amazing, mushroom cookies. You may be thinking, "Ewww.. what?!?".. They are not cookies made of mushrooms. They are cookies that look like mushrooms, more specifically smurf mushrooms, and they are delicious.
After Lithuania we grabbed the a bus to head to check out the next Baltic state, Latvia