Riga, Latvia was an interesting stop for us. It also had a cute old town area, but it was smaller then Vilnius, definitely more of a tourist area in comparison, and the museums were partially under construction. The main areas we checked out in Latvia were the old town, the art district, and the market.
The old town is the reason people come to Riga. It borders the Daugava River which flows out to the bay of Riga and he Baltic Sea. A canal surrounds the other three sides of the old town, not he other side of which is the art district. We stayed with-in the old town at an old convent house across from the main church. The streets of the old town were wider then those Vilnus and Praque, similar in size to Zagreb's lower old town. The area itself is a total tourist center, with restaurant, outdoor pubs, hotels, and stores everywhere.
The highlight of the old town stay was Rozengrals. Rozengrals is a medical restaurant in a basement of a building in old town that had been a tavern since 1293. Much of the decor is disney fake, but they do have a legit old well in the middle of the restaurant, the recipes are medieval recipees, and its all lit by candlelight. The food was good and hardy, the mead was tasty, and we got a bit messy.
The art district is filled with statues, sculptures, and museums. The first day we took a canal ride around the old town, which goes through the park that borders old town and the art district. The next day we walked the park and admired the statues. In general Riga is an artistic city. It is not graffiti artistic, but even in the old town there are new statues from what I assume are local artist.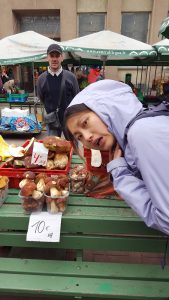 Lastly in our short journey we visited the market. To the east of the old town are three buildings lined up that look like old aircraft hangers. They probably are not old aircraft or blimp hangers, but that is the shape that they have. All three of those are part of the local market, with each hanger housing a particular item. The one closest to the river had a variety of fish and meat. The middle one had fruits and vegetables with more mushrooms that we didn't know existed, the last one was a mixture. Behind and alongside the hangers in the wide avenues and streets were stands selling fruits, vegetables, scarfs, coats, shoes and gloves. Since it has been getting colder, and we are traveling further north Jessy used the opportunity to buy a new scarf and gloves.