The Hermitage
The rest of our time in St Petersburg we spent by exploring the cities art and food. Art wise we started with the Hermitage museum which is comprised of the city palace and a few adjoining buildings. Inside was an opulent palace filled with art work collected by Russia throughout its monarchies. The rooms of the palace where just as much part of the exhibit as the actual art pieces themselves. Below are some of the parts I found most interesting.
There was ornate architecture with golden adornment. One room probably had more golf just in it then some small countries.
There was the two headed bird which represents Russia,  and also was popular in the baltic states.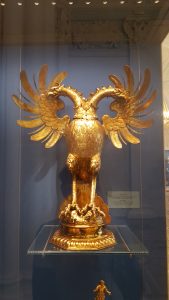 There was artwork, some of which was odd for a Russian palace like the painting and the greek mosaic below.
There was a golden Cathedral inside the palace.
Savior on the Spilled Blood
The second place of art that we visited was the Savior on the Spilled Blood church. It is the famous church in St. Petersburg with the Onion Towers. What is so artistic about it, besides the onions, is the inside is covered floor to ceiling with radiant gold art work.
The third place we visited was  St. Michaels Castle. The most interesting part of it were the paintings of local Russian life.
The fourth place we visited was the Faberge Museum which houses the largest collection of Faberge Eggs outside of Moscow. Below is a sampling of the eggs we saw.
Lastly in St Petersburg we went and say the opera Boris, which is about Boris Godunov who ruled for about 7 years during the time of troubles after the previous Tsar had died. The plot line mainly covers his defeat by the False Dimitry I, a monk pretending to be the dead Tsar's dead son and the boyers.  It was an interesting look into Russian opera, tsar/church politics, and lead us to read up on False Dimitry who incidentally only rules 2 years before getting overthrown. Turns out there were a lot of false dimitry's waiting in line to overthrow each-other, hence the "time of troubles".